Historic Hasley: Secrets from the Grave
Item request has been placed!
×
Item request cannot be made.
×
Processing Request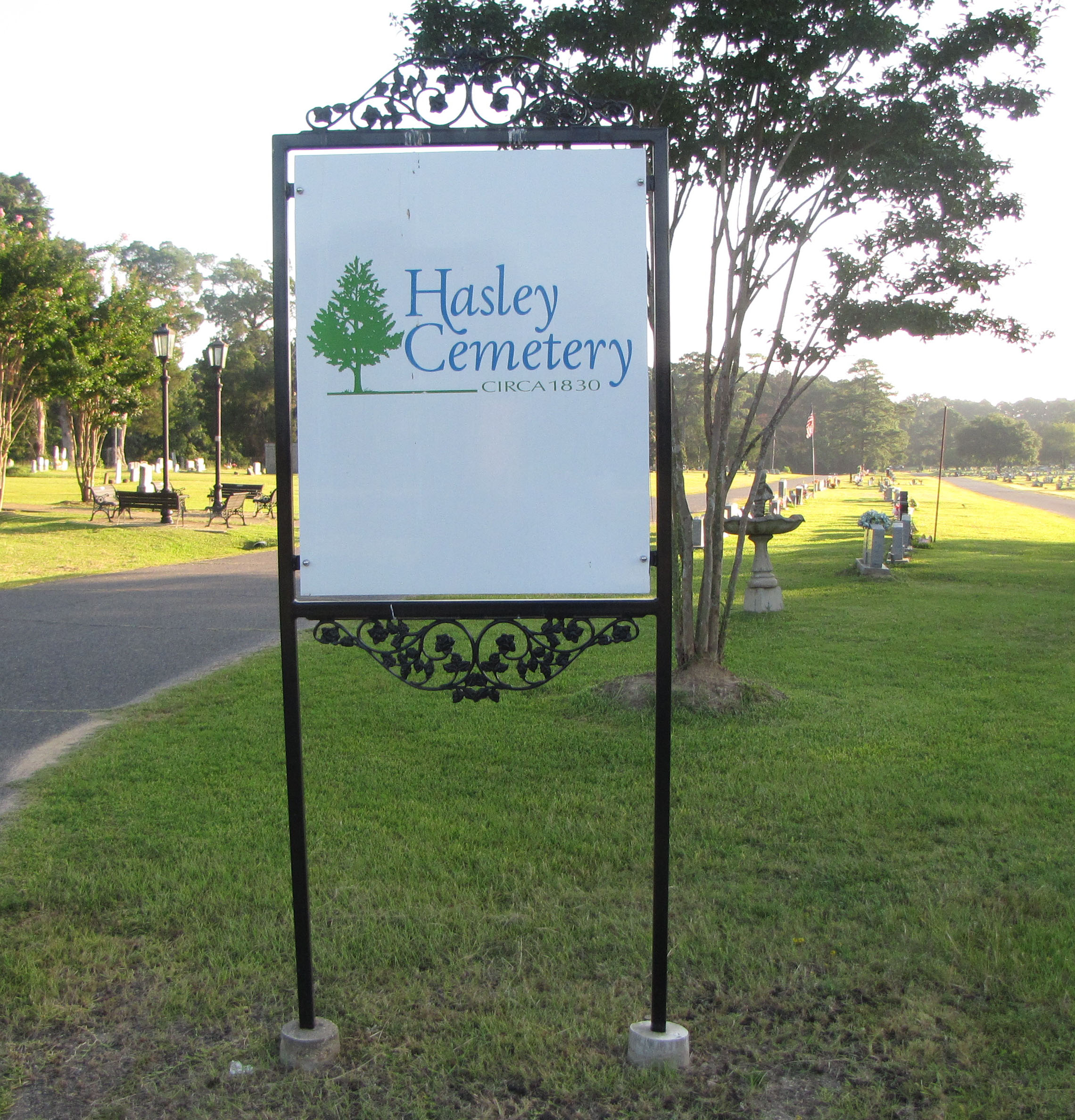 Historic Hasley: Secrets from the Grave is a virtual tour of Hasley Cemetery. Click the link below to open the map and learn more about individuals buried at Hasley and their grave markers. A print version of the brochure is available at the Ouachita Parish Public Library.
About The Monuments
Jason Church, Chief of Technical Services at the National Center for Preservation Technology and Training, surveyed Hasley Cemetery in August of 2021. He provided information about monument types, symbolism, history and preservation.  See each biography for information on specific monuments and the link below for more information on preserving grave markers in historic cemeteries.  
Click here for Preservation Briefs
Morris Carroll
Morris Henry Carroll
February 23, 1907 - September 19, 1979
A respected educator and Civil Rights advocate, Morris Henry was named for his grandfather, Henry C. Carroll. Henry C. Carroll came to Ouachita Parish during reconstruction and was a skilled boat caulker during the steamboat era. He purchased land on the west bank of the Ouachita River, helped organize the Trenton Baptist Church and develop the Trenton Community. Morris Henry inherited his grandfather's work ethic. As a boy he delivered milk for his uncle, Browder Willis, who had a dairy. Morris Henry paid for college at Southern University by working at the Slagle Johnson Lumber Company. Morris Henry Carroll was recognized as an  "All American fullback" in football. He was an educator and principal of Monroe Colored High School when Carroll High School was built. Morris Henry Carroll named the new school after his grandfather, Henry C. Carroll.  
Morris Henry Carroll's monument is a modern four-person mausoleum made from two types of granite. 
E. B. Cryer
Elias Burch Cryer 
April 19, 1844 - January 31, 1910
Cryer was an owner and operator of steamboats on the Ouachita River and its tributaries. His boats included the Ora, the Acme, Willie, St. Francis Belle, and D. Stein. A November 5, 1928 Monroe News Star article recounts how Cryer captained the Francis Belle in a race from Monroe to Pleasant Landing in Bayou Bartholomew, a distance of 58 miles by river. Cryer beat his rival by 35 minutes because of his ability to handle the crooks and bends of the bayou. He also owned wharf boats at Trenton and Monroe. His last steamboat was the Annie Lee on Bayou Macon.   
E. B. Cryer's monument is granite and possibly replaced in the 1960's when repair work on the iron fence around the family plot was made.  The monument for his daughter, Effie, is marble probably Italian with raised lettering and marked St. Louis. The clasped hands are a common symbol of love, Christian love or brotherly love. This example is of a woman and a man based on the cuffs of the sleeves. The monument includes a bedstead and a footstone of a carved lamb. The words on the headstone, Let Me Rest, indicate the child was probably sick for some time before she died.  
Ike Hamilton
Isaac Hamilton 
July 9, 1911 - May 1, 1997
Hamilton's first job was selling newspapers which he soon did on horseback in West Monroe. He drove an ice wagon and scaled hogs and after high school he started rodeoing. He began rodeo clowning in 1928 but at a 4th of July rodeo in 1936 he broke his leg in five places. It was several years before it healed, and he was left with a lifelong limp. Hamilton became an auctioneer and traveled all over the south.  He is a member in the Auctioneer Hall of Fame, the National Cutting Horse Association Hall of Fame and the Louisiana Auctioneers Association Hall of Fame. Hamilton always returned to West Monroe and his family. He was devoted to his wife Shirley and their three children and his community. He helped found ARCO, a day school and the G. B. Cooley School. The Ike Hamilton Exposition Center is named for him. 
Ike Hamilton's monument is a marble, flat, pillow-top stye marker.  
William Head
William G. Head
September 1848 - July 29, 1930
Born an enslaved person in the Head household, as a young teenager during the Civil War, W. G. Head attended J.P. Crosley, Martha Head's husband. After emancipation, Head helped establish schools and churches where often he was the only person in the congregation who could read and write. He helped establish the Gum Springs Baptist Association in 1872 in Farmerville and served as its first secretary. In 1909 Head served as an elder for the Louisiana Baptist State Convention. Head was elected to the Ouachita Parish School Board and was an early worker in the church that is now Trenton Missionary Baptist Church.
WIlliam Head's grave is unmarked but is probably near family members buried at Hasley. Ada R. Head is listed on the 1880 census as William Head's two-year-old daughter. She died in 1882 and her grave is marked with a concrete marker.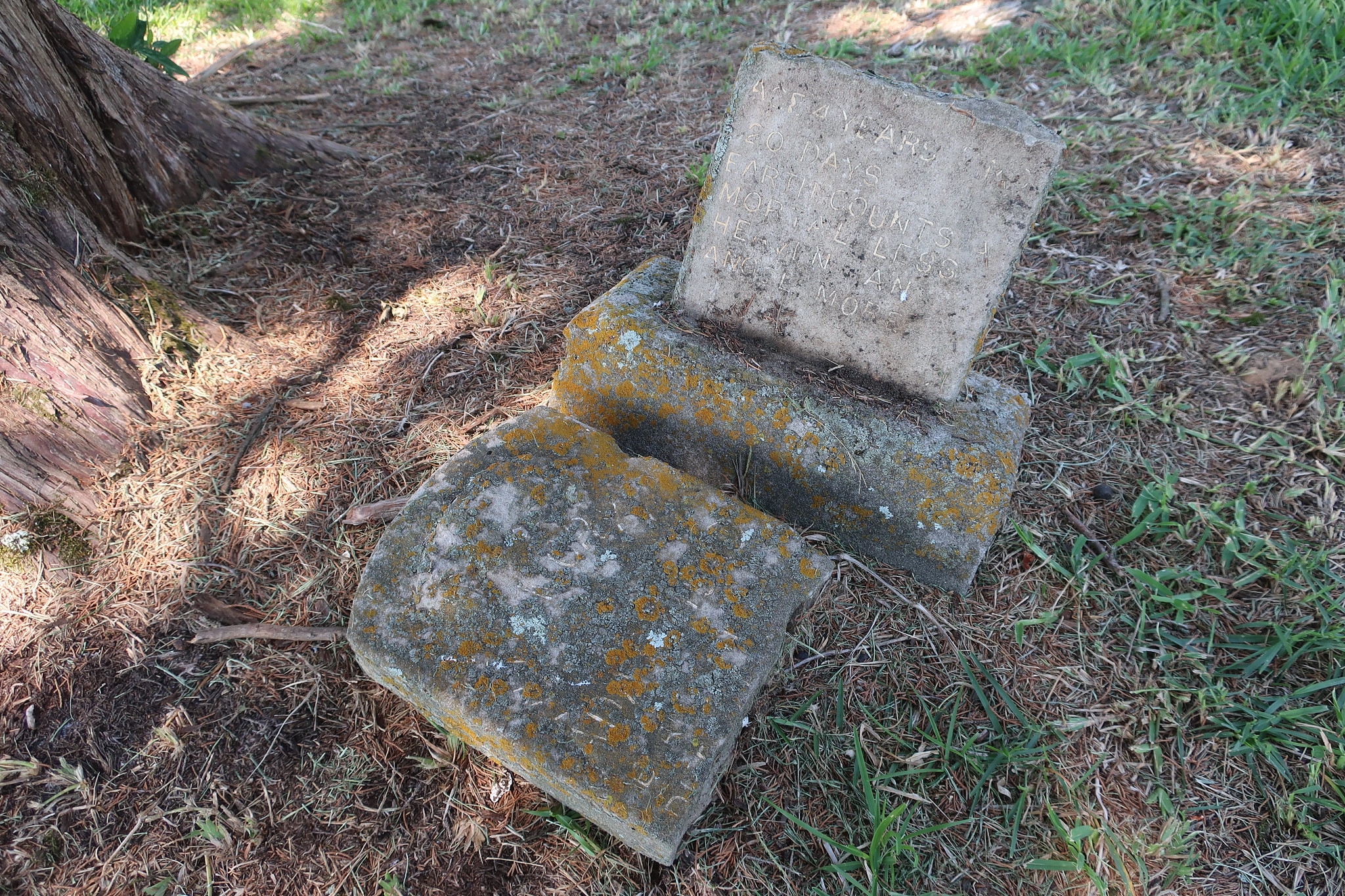 Sally and Jim May
Sally and Jim May
1853 - 1928
Little is known about Sally other than she was listed as a survivor and the mother of 8 children in the May 1928 obituary of her husband Jim. 
Sally's monument is cast concrete with pressed letters. It was probably handmade and originally limewashed white.
Jim May worked on steamboats as a roustabout and captain of the watch who was responsible for stowing cargo, mooring and unmooring the steamboat. He was a hunting guide and an assistant sexton for Hasley Cemetery.
Jim's grave is no longer marked but is probably next to that of his wife, Sally May.
Lillian Williamson
Lillian Bruce Herron Williamson
September 27, 1893 - July 23, 1939
Williamson was a librarian at the Ouachita Parish Public Library and Northeast Junior College and had served as president of the Louisiana Library Association. She had degrees from Louisiana State University and Louisiana Tech. She was taking graduate courses at LSU and working in their library when she died. She and her husband, Frederick William Williamson, a writer and newspaperman, were working on a book, Eastern Louisiana, at the time of her death. Williamson dedicated the book in her memory. 
Lillian's monument is made of marble. The grapes represent the Eucharistic wine, a symbol for the blood of Christ. 
J.P. Crosley
Joseph Perry Crosley
October 9, 1815 - December 18, 1876
Captain Joseph Perry Crosley married Martha Elizabeth Head in 1845 and they came to Ouachita Parish in 1858. Crosley had a business in Trenton before the Civil War and after, he was a planter. He died December 18, 1878 leaving his wife, two sons and a daughter. Crosley and his wife had five children who died young and were buried in the family plot at Hasley cemetery. Crosley School is named for him.
Crosley's monument is marble with a granite base. It is an obelisk, a popular shape for memorials that was originally at the head of a brick barrel vault. The five children share a monument that is marble with a granite base and has carved flowers that are symbols of youth. The bud symbolizes a young person and the dropped bud signifies a life not lived.  
Phinetta Hasley
Phinetta Houton Wooten Newman Hasley
1800 - July 14, 1878
Phinetta Hasley's first husband was Lemuel Newman, a farmer and brother to Pastor Johnathan Newman.  After Newman's death, she married David Hasley. David Hasley died in 1873 leaving Phinetta a widow with no children  Phinetta used her wealth to fund the building of churches at Trenton and Monroe and she gave the land for the original Hasley Cemetery.  
The mausoleum is made from high fire brick. The memorial markers for
Phinetta and her two husbands are set in the mausoleum and are made from marble. Both Lemeul's and David's markers are signed by the John Stroud & Company of New Orleans that was established in the 1830's.   
Joseph and William Mason
Joseph and William Mason
Joseph Mason
May 12, 1833 - July 15, 1836 at three years of age
William Mason
January 18, 1765 - November 14, 1836
Died only a few months after his young son.
These are the oldest marked graves in Hasley Cemetery and are marble, possibly southern marble that originally included a headstone and a footstone. 
Jethro and G.C. Moore
Jethro Moore
June 1825 - July 31, 1912
Jethro Moore was Trenton's first pharmacist. The great fire of 1873 possibly started in his drug store. He served as mayor of Trenton. Jethro was the uncle of G.C. Moore and was married to Eliza who died in 1886. Jethro Moore's monument has a concrete base and marble headstone. He is buried next to Eliza whose marker has a marble headstone, possibly Carrara Italian, with a limestone base and is marked Rosebough Sons, Saint Louis. It is engraved with clasped hands of a male and female symbolizing their love.
Godwin Cotton Moore
July 13, 1859 - October 6, 1935 
G. C. Moore was a West Monroe businessman whose first job was that of a ferry operator from the head of Natchitoches Street across the Ouachita River. He also owned numerous saloons. The Corner Saloon building still stands on Trenton Street.    G. C. Moore's monument is granite with litho chrome painted and engraved letters. It is probably not the original monument.  
Julia Wossman
Julia Caroline Wossman
August 4, 1879 - February 24, 1963
Wossman began teaching in the Monroe City School system in 1898 and was principal of Barkdull Faulk school from 1921 until her retirement in 1949.  She was active in several community organizations including the Red Cross, Monroe Recreation board, Business Professional Women's Club, the Ouachita Tuberculosis and Public Health Association and the Ouachita Parish Detention Home. In 1965, Wossman High School was named after the late Julia Wossman.
Wossman's marker is an original marble monument.
Funding for this Rebirth Public Library grant has been provided by the National Endowment for the Humanities (NEH) and administered by the Louisiana Endowment for the Humanities (LEH) as part of the Coronavirus Aid, Relief and Economic Security (CARES) Act economic stabilization plan. Additional funding is provided by the Union Pacific Foundation.